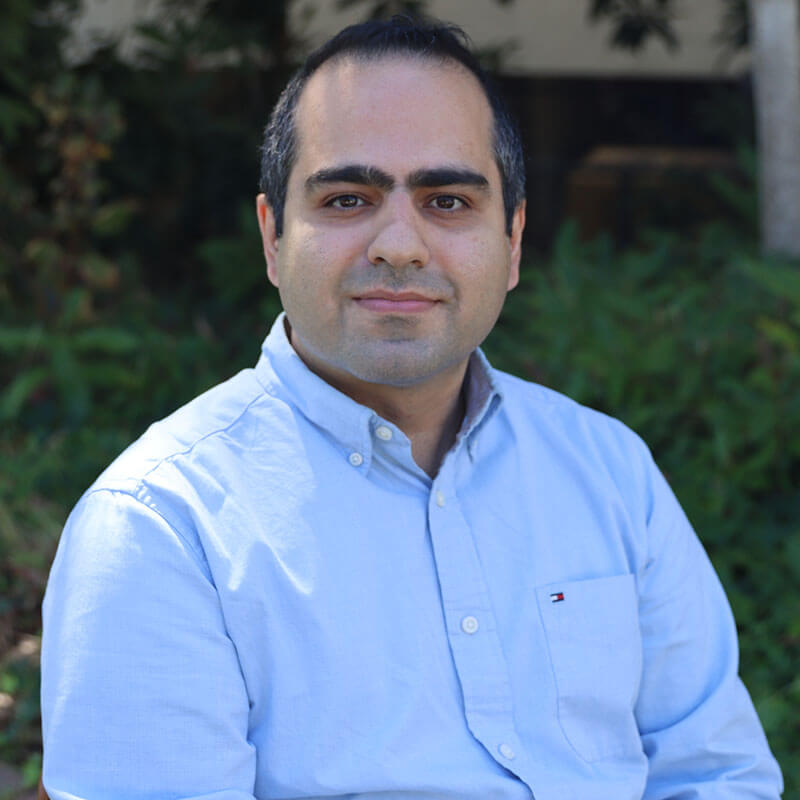 Dr. Reza Akhavian
Pronouns: He/His/Him
Associate Professor
Academic Affairs
College of Engineering
Civil, Construction, and Environmental Engineering
San Diego
Email

Phone

Location

ED-100D
5500 Campanile Drive
San Diego, California 92182

Links
Bio
Reza Akhavian is an educator, researcher, and industry consultant. He is currently an Associate Professor at the Department of Civil, Construction, and Environmental Engineering and the Director of the Data-informed Construction Engineering (DiCE) research lab at San Diego State University. Prior to joining SDSU, he was an Assistant Professor of Engineering at California State University East Bay. He has authored/co-authored more than 50 articles published in peer-reviewed journals and conference proceedings. Dr. Akhavian is the recipient of the National Science Foundation (NSF) CAREER Award, the ASCE Construction Institute (CI) Outstanding Young Professional Award, and the ENR California Top 20 Under 40.
Areas of Specialization
Dr. Akhavian's work focuses on theory and practice of technology development, adoption, and integration in civil and construction engineering. He has more than 10 years of academic and industry experience working with technologies such as robotics, artificial intelligence (AI), data analytics, IoT, digital twins, and BIM/VDC to enhance various civil engineering and construction management operational processes.
Awards & Honors
2021 NSF CAREER Award
2021 SDSU Faculty Forward Award
2018&2020 ASCE Journal of Construction Engineering and Management Outstanding Reviewer
2020 ASCE CI Outstanding Young Professional Award
2020 ENR California Top 20 Under 40 (Top Young Professionals) Award
2020 ICCE Emerging Scholar Award
2017 AGC Robert L. Bowen Industry Residency Fellowship
2016 ASCE ExCEEd Teaching Award
Courses
CIV E 696 Building Information Modeling
CON E 215 Virtual Design and Construction
Education
2005 - B.S. in Civil Engineering, University of Tehran, Tehran, Iran
2012 - M.S. in Civil Engineering, University of Central Florida, Orlando, FL, USA
2015 - Ph.D. in Civil Engineering, University of Central Florida, Orlando, FL, USA
Grants
California State University Program for Education and Research in Biotechnology (CSUPERB): "Construction Workers Safety and Health Assessment via Wearable Biosensors and Machine Learning" (Sole PI)
National Science Foundation (NSF): "CAREER: Co-Adaptation and Trust in Worker-Robot Interaction toward Scalable Adoption of Collaborative Robots in Construction" (Sole PI)
U.S. Department of Transportation (through Safe-D National UTC): "A Holistic Work Zone Safety Alert System through Automated Video and Smartphone Sensor Data Analysis" (PI)
California Department of Transportation (Caltrans): "Caltrans UAS Safety Management System" (Co-PI)
California State University Transportation Consortium (CSUTC): "Automated Measurement of Heavy Equipment Greenhouse Gas Emission: The Case of Road/Bridge Construction and Maintenance" (PI)
Hedco Foundation "Measuring Greenhouse Gas Emissions for Climate Change Education and Research" (Sole PI)
Associated General Contractors (AGC) Education and Research Foundation: "A Case Study on BIM Applications in the Field for Preconstruction Planning and Project Execution" (Sole PI)
DPR Construction & Associated General Contractors (AGC) Education and Research Foundation: "Summer Faculty Residency" (Sole PI)
Media
ConstructionDive - ConTech Conversations: SDSU professor says robots 'not close' to replacing human workers, 2021
https://www.constructiondive.com/news/contech-conversations-sdsu-professor-says-robots-not-close-to-replacing/600771/
ENR - California's 2020 Top Young Professionals, 2020
https://www.enr.com/articles/49057-enr-californias-2020-top-young-professionals
Inside Higher Ed - Academic Minute: Technology and Construction, 2017
https://www.insidehighered.com/audio/2017/11/30/technology-and-construction-accidents
NBC Bay Area - Cal State East Bay Students Work to Create Zika-Fighting Drones, 2016
https://www.nbcbayarea.com/news/local/cal-state-east-bay-students-work-to-create-zika-fighting-drones/2077263/
Publications
Available at Google Scholar: https://scholar.google.com/citations?user=EVC47ZUAAAAJ&hl=en